Have you thought about what you are going to do when it comes to changing your last name after marriage? We asked two brides, Caroline Bradley, editor of hitched.co.uk, and Hollie Bond, senior features and travel writer at You & Your Wedding, to go head to head…whose side are you on?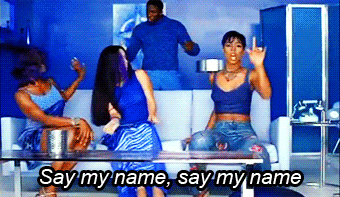 "I Want to Commit to This Fully"
"The decision to change my name was probably one of the easiest wedding choices I had to make," reveals hitched Editor Caroline Bradley, who took her husband's name after marrying him earlier this year. "Despite sentimental pangs towards my old last name, when I got engaged I felt certain that I would lose it when we got married.
"Although I have always been sure about this, it wasn't a decision I took lightly. I've established myself as a journalist with the name Caroline Hendry, and if I Google myself (come on, who doesn't?), the first few pages are scattered with quotes, interviews and articles I've written.
"However I think I'm early enough but also established enough in my career to 're-brand' myself as Caroline Bradley, and I'm fairly certain all memory of me won't be wiped off the face of the earth just because I've changed my name."
Considering her line of work, Caroline thought about keeping her maiden name for professional use, but ultimately decided against it: "The idea of having two names felt overly complicated. If I'm making the decision to change my name, I want to commit to this fully and not flit between the two.
"I'm sure my husband will still tell me I'm 'pulling a Hendry' every time I knock something over or trip over absolutely nothing! Still, I can't help but be excited to mark this new chapter in my life, and what bigger milestone moment than a new name, new email address and a new Twitter handle?
"On a more practical note, if we are lucky enough to have a family together, I want us to be a unit. I don't want to be the one standing back at airport security because I don't have the same family name as my husband and my children. It's those little day-to-day details that feel important to me.
"My old name is never going to leave me, but as I move into married life it feels natural to evolve. Life as Caroline Hendry has been pretty amazing so far; I'm really looking forward to jumping into life as Caroline Bradley and seeing where that takes me."
Are you team Caroline? If you're indignant at the thought of changing your name, hear what Hollie has to say…
"I'm Flying the Flag for All the Women Out There Who Love Their Maiden Name"
"Let me introduce myself – I'm Hollie Bond. I have been for 29 years and I will be until the day I die. Let me introduce someone else. She's called Hollie Whaley and I have no idea who she is. I'm sure she's very nice, but she is not me," explains You & Your Wedding's Senior Feature and Travel Writer Hollie Bond, who has been married for two years.
"I didn't think I'd feel so strongly about changing my name when I got married. I'm not a raging feminist who refuses to take a man's name, and I'm not an egomaniac either. But in the run up to the big day, the thought of parting with my name made me surprisingly sad.
"Let's face it, when I was born I hit the surname jackpot. When I'm in foreign countries people delight in hearing me say 'The name's Bond, Hollie Bond' and almost beg me to confirm I have a relative called James. That's not something you throw away with ease.
"I have nothing against my husband's surname, but given the choice between a master spy and a marine mammal, anyone would go for the former. My husband is completely OK with it and my in-laws have never disagreed with my choice, although my FIL does find it amusing to refer to me as Mrs Whaley after a drink or two!
"But what about when you have children, I hear you say. What about it? My husband and I will discuss what to do when we cross that bridge. Whether they take his name, my name or double up, I won't need the same name as them to feel like they're mine."
Hollie's only concern when it came to keeping her maiden name was which title should she use: "Mrs Bond? Or is it weird having my mum's name? Ms Bond? Does that sound like I can't decide either way? Miss Bond? Fortunately, I've found a novel solution: I mix and match all three depending on my mood. If I'm feeling old, I go with Miss. If I want to sound confident and accomplished, it's Mrs, and if I want to leave people guessing it's Ms!
"So whilst I wish Caroline all the best with the torrent of name-change admin she faces after the wedding, I'm flying the flag for all the women out there who love their maiden name and want to keep it that way. Maybe I am a raging feminist after all."
Who do you agree with? If you find the tradition fascinating, make sure you check out our round up of the weirdest old fashioned wedding traditions that you won't believe existed!