Will you be having evening guests at your wedding? It's a subject that can cause tension. We asked two brides-to-be, Penny and Rachel, to go head to head over this contentious topic…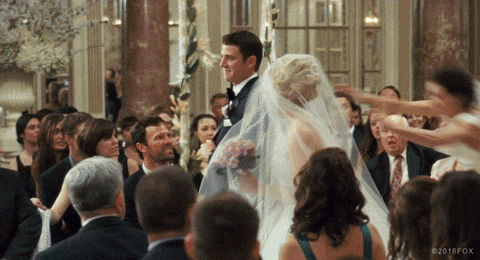 "Evening Invitations Are a Snub"
"You know that scene in Mean Girls where the badly dressed Regina George tries to eat lunch at the cool-girl table but is swiftly stopped in her tracks with a cutting 'You can't sit with us!'? To me, that's the equivalent of being invited to an evening do," Penny, who doesn't believe in evening invitations, reveals.
"It's a slightly more subtle way of saying you're a nice enough friend/acquaintance, but you're not quite important enough to be invited to the main event. I'm getting married in the summer and we decided from the get-go that evening guests just weren't an option.
"In fact, when I mentioned the mere possibility to my French parents, they visibly recoiled, protesting that it was too much of a snub (apparently evening guests aren't a thing in France, who knew?!).
"We were adamant we wanted all our nearest and dearest present on the day and we wanted them to share the whole day with us, not just the party bit where, let's face it, most of us will be worse for wear anywhere."
Penny had a practical way to determine her guest list and negate the need for evening guests: "Friends, and even family, whom we hadn't seen in the last year, or whom we just weren't that close to anymore, we chose not to send any invitation to. Because if you wouldn't invite someone to your house for tea, why would you bother inviting them to the most important day of your life?
"It sounds harsh, I know, but before you start thinking of me as selfish, I'd like to point out that it's as much for the guests as it is for us. Evening-only guests would have to travel all the way to the venue, which is in the Surrey countryside, possibly pay for a wedding gift, pay for accommodation and in return get a nice party and a bit of free food and booze. Not exactly getting bang for their buck are they?
"Trust me, I've been there, and by 'there' I mean evening dos that ended up costing me more than an expensive night out in London. More importantly, every single time I had the nagging feeling that, to the happy couple, I was a second-rate friend and I sort of resented it.
"Childish perhaps. But to finish on another film analogy: you wouldn't go to the cinema just for the credits, would you?"
Do you agree with Penny? If you're gasping in shock at her views, hear out Rachel, who is all for an evening invitation…
"It's An Honour to Spend Any Amount of Time at a Wedding"
"I've been an evening guest at many weddings over the last few years, and not once did I turn up on a mission to 'get my money's worth' at the free bar," explains Rachel, who is tying the knot this winter at a wedding that will be attended by both day and evening guests.
"I certainly didn't corner the bride and demand to know why I'm sooo unimportant that I didn't make the day guest list. Nor did I partake in all sorts of questionable behavior whilst smugly thinking, 'Ha, that will teach them to give me an evening invite!'
"I can't imagine anyone at our December wedding doing that either. My fiancé and I will be having around 80 guests for our ceremony and wedding breakfast, with 30 more joining us for the evening celebrations. And this was one of the easiest and guilt-free decisions we've made throughout our planning.
"The idea that an evening invitation is a short straw is ridiculous to me. Surely it's an honour to spend any amount of time at someone's wedding? Our evening guests mean a lot to us for a variety of reasons, whether it's an old school friend or a 10-strong pack of former colleagues, but we want our ceremony and breakfast to be more intimate.
Rachel views evening guests as a way to involve more people and freshen up the party: "I can't wait to see the new faces arriving through the door at 7pm, ready to get the party started. It's like making your big entrance as husband and wife all over again and stretching the day out to create even more happy memories before the ushers get the tequila shorts lined up and everything goes a bit fuzzy.
"I think it's important to make those joining later feel loved and wanted though – I've been to a wedding where the speeches ran over, which meant all the evening guests had to stay locked in a room until they were finished (make sure you stick to your wedding reception timings!). We're hoping to provide a free bar, so evening guests don't have to shell out a load of money, and we'll put on an unlimited supply of food and entertainment for everyone to have a great time.
"So excuse me if I hit Penny back with a silver-screen analogy of my own: doesn't everyone know the best part of a film is the ending?"
Whose side are you on? Whether you're having evening guests or not, make sure you read up on the thoughts every wedding guest has so you are totally prepared…
Cover image: Ananya